So, the Emmys were last night. Let's discuss...Our host, Jimmy Kimmel, did pretty well for himself. While he didn't achieve too many BIG laughs, he definitely got the job done. it almost felt like a lot of his jokes were tailored to his specific fans.
Those of you that watch Jimmy Kimmel, whether on Youtube or on live television, you know of his relationship with Matt Damon. In the early 2000s, Jimmy Kimmel began his tradition of ending his show with the statement, "My apologies to Matt Damon, we ran out of time."
Watch it here:
This officially escalated in 2009 when Kimmel's then girlfriend, Sarah Silverman appeared on the show. Take a look.
Since then, there has been a constant back-and-fourth between Damon and Kimmel which made their skit at the Emmy's even funnier.
Easily the best part of the night. Anyways, to the winners...Let's check out who went home with the gold!!!
OUTSTANDING DRAMA The Americans Better Call Saul Downton Abbey Game of Thrones — WINNER Homeland House of Cards Mr. Robot
All I can say about this is, "YAAAAAAASSSSS!"
OUTSTANDING COMEDY black-ish Master of None Modern Family Silicon Valley Transparent Unbreakable Kimmy Schmidt Veep — WINNER (second consecutive win)
I can dig it...HBO sweeps!
LEAD ACTRESS IN A DRAMA Claire Danes, Homeland Viola Davis, How to Get Away With Murder Taraji P Henson, Empire Tatiana Maslany, Orphan Black — WINNER Keri Russell, The Americans Robin Wright, House of Cards
Is this real?!?!?!?! It's about time! Seriously this chick plays 37,000 characters and is convincing at every single one of them.
LEAD ACTOR IN A DRAMA Kyle Chandler, Bloodline Rami Malek, Mr Robot — WINNER Bob Odenkirk, Better Call Saul Matthew Rhys, The Americans Liev Schreiber, Ray Donovan Kevin Spacey, House of Cards
Ugh. I need to watch this show...I will soon, I promise!
SUPPORTING ACTOR IN A DRAMA Jonathan Banks, Better Call Saul Ben Mendelsohn, Bloodline — WINNER Peter Dinklage, Game of Thrones Kit Harington, Game of Thrones Michael Kelly, House of Cards Jon Voight, Ray Donovan
Oops! Didn't watch season 2. Maybe it's worth it. Sad about my boys Tyrian and Jonny tho.
OUTSTANDING DIRECTING FOR A DRAMA SERIES Downton Abbey, "Episode 9" (Michael Engler) Game of Thrones, "Battle of the Bastards" (Miguel Sapochnik) — WINNER Game of Thrones, "The Door" (Jack Bender) Homeland, "The Tradition of Hospitality" (Lesli Linka Glatter) The Knick, "This Is All We Are" (Steven Soderbergh) Ray Donovan, "Exsuscito" (David Hollander)
YAAAAAASSS again. Thrones, man. There isn't anything better. "Battle of the Bastards" actually made me feel like I was on the battle field, being swallowed up by a pile of dead bodies. Phenomenal.
SUPPORTING ACTRESS IN A DRAMA Maggie Smith, Downton Abbey — WINNER Lena Headey, Game of Thrones Emilia Clarke, Game of Thrones Maisie Williams, Game of Thrones Maura Tierney, The Affair Constance Zimmer, UnREAL
Okay. There were three women from thrones in this category out of six. The odds were ever in their favor. Too bad.
OUTSTANDING WRITING FOR A DRAMA SERIES The Americans, "Persona Non Grata" (Joel Fields, Joe Weisberg) Downton Abbey, "Episode 8" (Julian Fellowes) Game of Thrones, "Battle Of The Bastards" (David Benioff, D.B. Weiss) — WINNER The Good Wife, "End" (Robert King, Michelle King) Mr. Robot, "eps1.0_hellofriend.mov" (Sam Esmail) UnREAL, "Return" (Marti Noxon, Sarah Gertrude Shapiro)
YAAAAASSSS. Lol. Do I like Game of Thrones? Maybe.
VARIETY TALK SERIES Comedians In Cars Getting Coffee Jimmy Kimmel Live Last Week Tonight with John Oliver — WINNER The Late Late Show with James Corden Real Time With Bill Maher The Tonight Show With Jimmy Fallon
That's my boy! Favorite person ever! I love you for thanking Jon Stewart. Jo(h)ns gotta stick together.
WRITING FOR A VARIETY SPECIAL Amy Schumer: Live at the Apollo John Mulaney: The Comeback Kid Patton Oswalt: Talking for Clapping — WINNER Tig Notaro: Boyish Girl Interrupted Triumph's Election Special 2016
I have only seen Schumer's and Mulaney's special in this category so whatevs.
LIMITED SERIES American Crime Fargo The Night Manager The People v. O.J. Simpson — WINNER Roots
"OJ had a good night at his viewing party."
TV MOVIE A Very Murray Christmas All the Way Confirmation Luther Sherlock: The Abominable Bride — WINNER
I didn't care about this category. Sorry not sorry.
LEAD ACTOR IN A LIMITED SERIES OR MOVIE Bryan Cranston, All The Way Benedict Cumberbatch, Sherlock: The Abominable Bride Idris Elba, Luther Cuba Gooding Jr, The People v. O.J. Simpson Tom Hiddleston, The Night Manager Courtney B. Vance, The People v. O.J. Simpson — WINNER
He actually killed it. Phenomenal job. And he's Angela Basset's beau!!! Dope.
LEAD ACTRESS IN A LIMITED SERIES OR MOVIE Kirsten Dunst, Fargo Felicity Huffman, American Crime Audra McDonald, Billie Holiday: Lady Day at Emerson's Bar & Grill Sarah Paulson, The People v. O.J. Simpson — WINNER Lili Taylor, American Crime Kerry Washington, Confirmation
That's my girl, Great job in the show and great speech. Except when she pronounced her love for her grandma of a girlfriend, Holland Taylor. THEY'RE 30 YEARS APART! HOW DOES THAT EVEN WORK!?
SUPPORTING ACTOR IN A LIMITED SERIES OR MOVIE Jesse Plemons, Fargo Bokeem Woodbine, Fargo Hugh Laurie, The Night Manager Sterling K. Brown, The People v. O.J. Simpson — WINNER David Schwimmer, The People v. O.J. Simpson John Travolta, The People v. O.J. Simpson
Called it.
SUPPORTING ACTRESS IN A LIMITED SERIES OR MOVIE Melissa Leo, All The Way Regina King, American Crime — WINNER (second consecutive win) Sarah Paulson, American Horror Story: Hotel Kathy Bates, American Horror Story: Hotel Jean Smart, Fargo Olivia Colman, The Night Manager
Guys, Regina King was Sam's badass godmother in "A Cinderella Story." Classic.
DIRECTING FOR A LIMITED SERIES, MOVIE OR DRAMATIC SPECIAL Jay Roach, "All The Way" Noah Hawley, "Fargo" Susanne Bier, "The Night Manager" — WINNER Ryan Murphy, "The People v. O.J. Simpson" Anthony Hemingway, "The People v. O.J. Simpson" John Singleton, "The People v. O.J. Simpson"
I love this show! Yay!
A few notable Highlights:
Kate McKinnon's real emotions! She was so adorable when she accepted her first ever Emmy. Go Kate! She really deserved it. She's so damn talented!
The "Stranger Things" cast handing out snacks made by Jimmy Kimmel's mom. The little snacks even had special notes in them. Amy Schumer's was particularly funny.
Larry David presenting an award. You'll cringe and laugh uncomfortably. True Larry David style. He talks about sex. **cringe**
TINAMY BACK AT IT!! The two ladies presented in their matching green. They cracked jokes with their split Emmy that they won for guest hosting SNL together.
Finally, Tori Kelly. Her beautiful rendition of "Hallelujah" brought tears to the audience during the "In Memoriam" slideshow.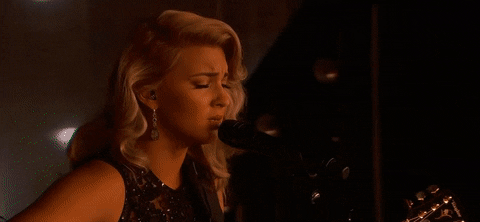 I enjoyed the Emmy's this year! I hope you did too...Award SZN is coming up sooooo soon! Can't wait!