THE PEOPLE V. O.J. SIMPSON: AMERICAN CRIME STORY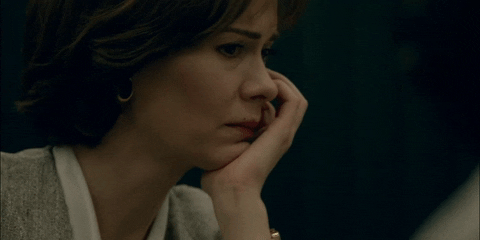 ***SPOILER ALERT***
In the wake of this show's 7 billion Emmy wins, I decided that this Ryan Murphy original was worth a binge. Boy, was I right! I certainly wasn't disappointed by the 10-episode limited series. I was very impressed by everything, ranging from the performances of Sarah Paulson and Courtney B. Vance to the actual direction and writing of the show.
It's similar, in a way, to watching Narcos. I say this because I know how the series ends; I know O.J. Simpson is acquitted of all charges regarding the double homicide of Nicole Brown and Ron Goldman. What makes it different--other than all the Spanish--is the fact that the bad guy perseveres. In Narcos, Pablo Escobar is eventually taken down and brought to justice. On the other hand, O.J. never pays his dues for the gruesome murders he committed in 1994. Instead, he and his manipulative defense team, prevail and win the most bullshit trial I've ever witnessed unfold. Even though I knew what would happen, I still wished and hoped that Marcia Clarke would bring home a victory--especially after all the shit our judgmental, mysogynistic, and brutal society threw her way.
It was unbelievably frustrating to watch this show knowing what everyone in the planet knows about the "trial of the century" now. Why were we so stupid? Why do celebrities get away with everything? It's so hard to believe that only 32 years ago, DNA wasn't considered hard evidence. The basis for most criminal investigations today was completely disregarded in the jury's decision to acquit O.J. Simpson.
A huge reason for this show's appeal is that it's based on a true story. It helps my generation understand the monumental case in an entertaining way. It's enlightening and it's real. There are real people with real problems and real relationships. Nothing seems fabricated. (Except the scene with the Kardashians chanting "Kardashian")
TBH, I shipped Marcia Clarke and Chris Darden. Their relationship was so realistic. It's so obvious that two, single people who work really closely together could develop feelings for one another. It provides an additional conflict because it's frowned upon to become involved with someone that you work with. I really did hope they would've kissed, though. Sigh.
Witness the amazingness unfold in The People vs O.J. Simpson: American Crime Story. It's worth it. You'll learn a lot, maybe cry, and get even more annoyed at the Kardashians. Watch Sarah Paulson and her nasty perm smoke more cigarettes than Donald Draper, become a checkerboard chick, and go ape shit on the Jury, the judge, America, and O.J. Simpson more times than you can count.
CONGRATULATIONS TO THE SHOW'S 9 PRIMETIME EMMYS! (More importantly, congratulations to Sarah Paulson on--finally--being rewarded for your unmatched talent. You are amazing.)