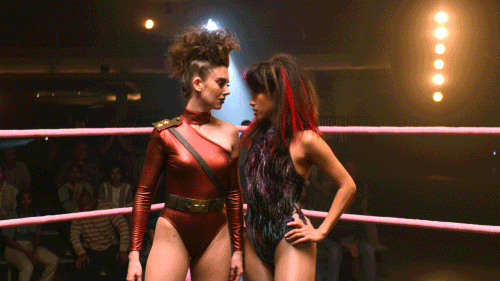 I was reluctant at first, but I adopted a #DoItForTheBlog mentality. And, you know what, after that Gypsy monstrosity, Glow was exactly what I needed. Its 10 light-hearted, thirty minute episodes were an absolute breeze to binge. It's witty, funny, and about as refreshing as a glass of ice cold lemonade on a hot summer day. 
Glow features the adorable and corky Alison Brie as its lead. You may know her as the lovely Trudy in Mad Men, straight-laced Annie Edison in Community, Will Ferell's bitchy wife in Get Hard, or as Dave Franco's perfect wife in real life. You also may not know her at all, but you will. Ruth, the show's protagonist, is Brie's peculiar character that is sure to earn her some recognition. 
Ruth is a terribly-annoying, obviously square, and inmistakeably flawed character. In the first episode, we learn that Ruth is a desperate actress who has engaged in some steamy relations with her BEST FRIEND'S HUSBAND. The show follows Ruth on her journey to obtain an acting gig where she doesn't have to play a man's thoughtless secretary, and ultimately finds that their aren't any. She uses GLOW as an opportunity to showcase her strength and independence and, along the way, she attempts reconcile with her bestie-turned-frenemy, navigate through drama & menstruation, and choreograph awesome stunts with her fellow gorgeous ladies of wrestling.
Glow is truly loads of fun. It's colorful and fast-paced. I definitely would have liked more episodes, but--on the plus side--It only takes 5 hours to finish the first season, so get binging.
Stream GLOW on Netflix Now!