SPIELBERG SERIES: THE COLOR PURPLE
Ughhhhhh. My hearrrrt.
To start off, The Color Purple on Broadway was one of the most profound experiences I've ever had in an audience. Currently bumping that soundtrack to get me in the right mindset. The film is long as hell, so I'm gonna condense in the shortest way I possibly can.
Condensed Summary:
Celie Johnson is the motherless child of a disgusting, abusive "father" (stay tuned if you don't know why I put that in quotes!). She is known as the uglier daughter when compared to her beautiful, younger sister, Nettie. Unfortunately, she has birthed two more of her father's children that he gave away immediately after they were born. She misses her children everyday as she never got to even meet them. Her then father marries her off to another abusive, piece of shit who really had eyes for Nettie.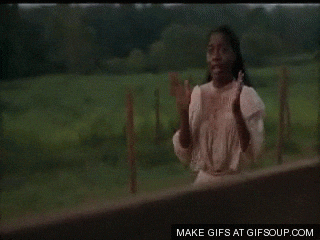 However, Nettie's father also had eyes for Nettie, but Nettie gets the fuck out of there and stays with Celie and Mister Albert (abusive hubby). That is until Albert tries to make moves on Nettie; Nettie stands up for herself and Albert kicks her out. The sisters taught each other to read and write during their time together and they promise to write every day.
Celie has been raising Albert's kids and Harpo, the eldest son, sprouts into a young man at the next time jump. He has fallen in love with Oprah--because SAME--otherwise known as Sofia, a bodacious, firecracker of a woman. Sofia doesn't take shit from NOBODY; in fact, she's a clear foil to Celie--a skinny, silent, pushover. Harpo can't control Sophia and Celie advises Harpo to beat her. Yowza. Having spent her entire life being abused it's not difficult to understand where she's coming from; it's not a malicious statement--Celie doesn't want Sophia to be beaten, she was just literally answering Harpo's question of how to control her. The point is, however, that robust characters like Sophia aren't meant to be controlled and Celie knows this, but Harpo doesn't. Harpo listens to the "advice" and it's the beginning of the end of their relationship. Only when he comes to learn that love is about giving up control can the two reunite. Meanwhile, Albert doesn't allow Celie to go near the mailbox.
Shug Avery is the sexy, elusive club singer that compromises all of Albert's thoughts. He loves her and makes it very clear to Celie that he would've preferred to have married her--LOL cuz Celie would've preferred to have married Shug too. A real relationship forms between Shug and Celie; there is so much love between them that it slightly crosses the boundary between sisterly and romantic. We meet Albert's father and understand why he's such a dick. Celie still hasn't heard from Nettie; Nettie promised that death would be the only reason for not writing. Celie thinks Nettie may be dead. Shug leaves and Celie says she's gonna go back with her--she chickens out.
Sophia is on her own; she is filling up her car when the mayor's wife (Miss Millie) comes over to her and asks if she would be her servant to which Sophia replies, "Hell NO." The mayor slaps her and Sophia punches him. She goes to jail for a while and is released into Miss Millie's custody. Slavery was abolished, but Sophia has been reduced to a slave.
Shug teaches Celie sass and to smile. She starts gaining more confidence. Finally, Celie stumbles upon a letter from Nettie; she and Shug find tons more letters from Nettie that Albert had been hiding. It was a very Notebook-esque thang before the Notebook came out. (copycats!) Nettie has been in Africa with Olivia and Adam (Celie's children) the whole time; she has helped raise them with love and they're fine adults now, but they're struggling to get admittance back to the US. Shug leaves again and returns with a kind husband. Neither Albert nor Celie are happy about it, but Celie leaves with them this time. She's finally here.
Albert learns from his confrontation with Celie; he is an asshole. He pays immigration all of the money he'd hidden in the secret stash with the letters to let Nettie and Celie's children come to America. Celie's "father" dies and she learns that he wasn't her biological father; her real father died two years after he and her mother married--her children aren't her brother and sister; on top of that, the property was in her real father's name and since Celie's mother was dead, Celie got the house. Nettie returns with Adam and Olivia at the film's finale--a real fucking fairy tale.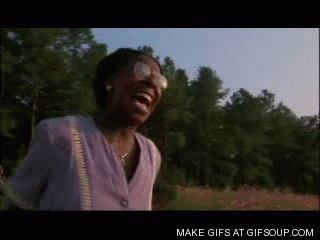 Response:
This is shaping up to be a long ass post, so I'm gonna clip it with a few of my final thoughts; The Color Purple is a beautiful, emotional, cinematic feat. It is another example of Spielberg's sheer range as a director; not only was it a female melodrama, but it was also a period piece and a black film; he juggled different eras and vastly different cultures.
In typical Spielberg fashion, It isn't very heavy in dialogue; Celie hardly speaks throughout the film. I hadn't seen this film until just now which is a shame, but I had seen the Tony award-winning Broadway revival with Cynthia Erivo. I think the show definitely gave me a deeper investment into the characters, but it also gave me more dialogue. Particularly when contrasting the two "I'm here" scenes; in the movie, it's two sentences. In the show, it's a five minute song. I don't think I've ever cried harder. DO URSELF A FAVOR AND WATCH CYNTHIA SING. Ok. That's it. I'm out.